A haibun for  https://dversepoets.com/2019/03/04/haibun-monday-march-madness/
Today is the first cool day in ages.  During the past week the temperature have been over 38 degrees Celsius day after day.
Across this southern Australian State bushfires rage.  Not down here on the coast but through the forested hills to the east where I lived for many years.   I hear the names of familiar towns on the News and feel for the people still living there.
Ten years, when I lived there, the fires burned quite close to my home.  The worst day of those fires is seared into my memory.   The sky above my house turned a vile sickly orange and burnt leaves fell on my lawn.   The firefighters warned everyone to watch out for burning embers for the fierce winds were carrying them many, many kilometers from the blaze.    Around 3 in the afternoon I heard on the radio that one of the fire fronts was raging up the mountains towards the TV and radio transmission towers.  There was nothing anyone could do to prevent their destruction.   About twenty minutes later transmission stopped.   Only one television station that used a different transmission tower still worked so for over a week the only TV News we got was focused on the extreme fires that had burnt closer to the state capital.  The area I lived in was barely reported on.   One item that was broadcast though was the rising death toll from all the fires across the state.    The final toll was 173 plus countless animals.
Now, in these current fires, most people are not staying to defend their properties.   They evacuate instead.   I see them weeping on the News when they learn their house has burnt to the ground.  "I have nothing," they say.  "Nothing but the clothes I stand up in and the car I drove to safety."   One distraught woman spoke of staying to defend her house for as long as was safe.   She described the fires as sounding like a fire breathing dragon roaring through the bush.
Wild dragon days
torrid heat, blazing fires
– praying for rain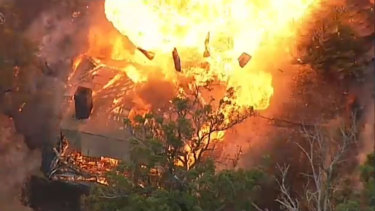 An aerial view of a house exploding in a massive fireball in Tonimbuk in the Bunyip State Forest.CREDIT:NINE NEWS