I have been inspired to write this post after reading Cathy Birdsong's post about her  spiritual journey and her decision to walk the Camino-de-Santiago
https://wanderessence.com/2018/08/23/the-call-to-place-the-camino-de-santiago/
Cathy's post reminded me of my own journey through Spain and that sense of being called to a place even though you don't know why.   For me Spain was a kaleidoscopic patterning of impressions, light and shade, highs and lows.
While I'm travelling I keep spasmodic notes on my experiences.  Sometimes too my photos work to sum up my impressions of a place.     Here are a few diary excerpts and photos from my experiences in Spain:-
Cuenca and the hanging buildings:-  

"where I was serenaded by an aging busker and give a tote on a joint by an aging hippy" 
Valencia                    
Barcelona – city of magic and mystery, excitement and creativity
Montserrat – "a strange and mystical encounter with Goddess energy"

Saragoza -Goya's birthplace
"went to a beautiful silent gallery filled with an exhibition of Goya's etchings.   Profound.
In the Cathedral – St James is said to have seen a vision of the Virgin Mary – she then turned into an alabaster pillar – I touched the pillar but saw no vision – only a sense of the deep, sometimes superstitious religious beliefs in Spain"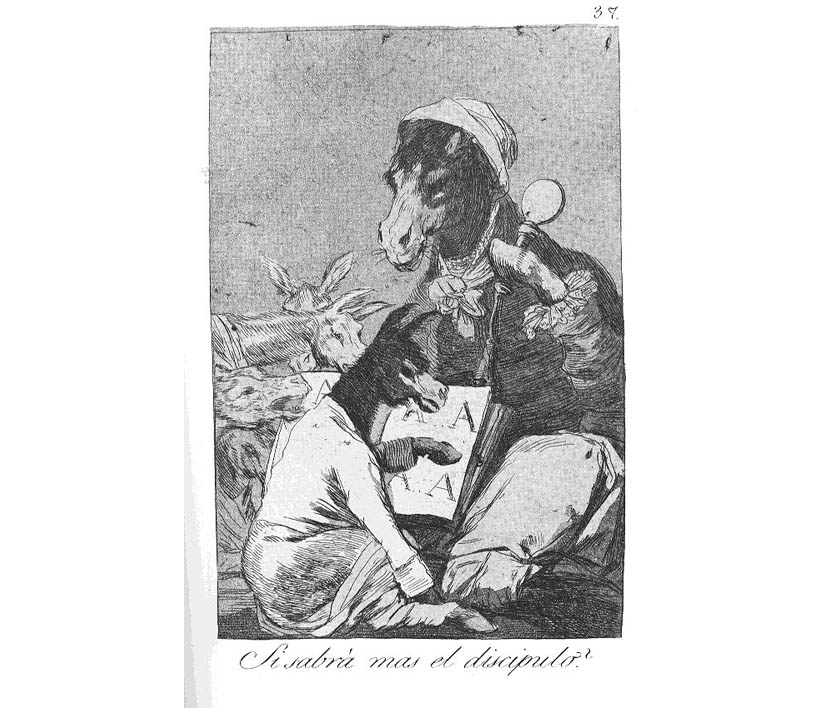 I bought some postcards of Goya's etchings at the gallery.  One that has always intrigued me shows a donkey teaching a donkey pupil to read.    I found a good interpretation of this etching on here – "The idea seems clear enough: while we continue to teach our children to believe in the same falsehoods that we believe in, the pantomime will persist."
While travelling across the plains of northern Spain I wrote in my diary:-
"Strange energy today.   Like my ghosts are with me.  Russell (my deceased husband) with the classical guitar plucking a melancholy air in the background, my mother painting the drama of this dry landscape dotted with the crumbling ruins of old farmhouses.   Even more – a kind of romantic sadness and the deep pathos of the Spanish Soul"
In a Cathedral somewhere –

  – the architect husband of the woman in the foreground of this photo made the observation – "These days the money goes into building majestic buildings for financial institutions.   Back then it went on Cathedrals.  It's all a reflection of what the society of the time values the most."
Seville   – Sitting in the sun in a Plaza.  Sangrias and getting lost.

In the Cathedral – Murillo and Goya.   Gold and silver everywhere.   Jewel encrusted gold crowns – made from melted down Inca gold?

Ronda – "cobbled streets, orange trees, red geraniums, wisteria, rosemary, mint and thyme in pots.   Birds singing.   Someone playing acoustic guitar.  Blue sky.  Fresh mountain air."

Granada –  Alhambra crowded yet still magical, beautiful


In the Jewish Quarter – ochre walls.    (The Jews were expelled from Spain along with the Moors in 1492)

Cordoba  – the Moorish Mosque with a Catholic Cathedral erected in the centre (after the Muslims were expelled in 1492).   Strange place – a forest of stone.   While I was there a Catholic Mass was being sung in the Cathedral.  Deep sonorous male voices intoned the Mass solemnly, mournfully.
Burgos, Segovia – beautiful old cities, atmospheric in the rain

Madrid – "on my last day in Spain I went to a gallery in a cold old stone building with long cloisters.   I came across an exhibition titled 'Light and Dark Spain – Dialectic Visions of Spain'.   The dark – Catholic, solemn, brooding, dramatic.   The light – luminous, sunny, colourful, a country for travellers seeking the exotic."
At the time the exhibition worked to sum up my experience of Spain.  I had been feeling that throughout my whole time in Spain I had failed to understand what I had experienced.   In attempting to penetrate beyond my own superficial impressions I was, like Don Quixote, merely tilting at windmills.

Now, all this time later, I feel that my encounter with the Black Madonna of  Montserrat was the fulcrum point of my journey.   The scholar Matthew Fox calls the Black Madonna the archetype for our age here
He writes:-  "The Black Madonna is Dark and calls us to the darkness.  Darkness is something we need to get used to again—the "Enlightenment" has deceived us into being afraid of the dark and distant from it. Light switches are illusory. They feed the notion that we can "master nature" (Descartes' false promise) and overcome all darkness with a flick of our finger. Meister Eckhart observes that "the ground of the soul is dark." Thus to avoid the darkness is to live superficially, cut off from one's ground, one's depth. The Black Madonna invites us into the dark and therefore into our depths. This is what the mystics call the "inside" of things, the essence of things. This is where Divinity lies. It is where the true self lies. It is where illusions are broken apart and the truth lies…
The Black Madonna shakes things up. Is this not an archetype for our times? Is she not a forebearer of a renaissance, one who comes to give new birth to a civilization, a birth based on a new sense of spirituality and cosmology and learning—a learning that reawakens us to our place in the universe? How will work in the world become wise as opposed to exploitive without wisdom? How will the human soul move from knowledge to wisdom without the kind of effort the goddess can bring? Without a balance of male/female, heart/head, body/spirit truly happening at all levels of education from childhood to professional degrees? How will a renaissance happen if education is left behind? What role will art play when the artist too lets go of the internalized oppression of the modern era and recommits himself/herself to serving the community and to serving the larger community of ecological sustainability?  These are some of the questions raised by the return of the Black Madonna in our time. They beg for response. They beg for listening ears and attentive institutions. They beg for self criticism of nation-states, governments, corporations, academia, religion, law, professions of all kinds which are called to something new (and very ancient): a new relationship between earth and humans. One of mutuality, not mastering. One of joy and wonder, not boredom. One that honors all our relations. For this to come about some rattling of our modern cages and mindsets is in order. The Black Madonna provides such a shake-up. Still. After all these centuries."